BS1300 Semi Automatic SMT Stencil Printer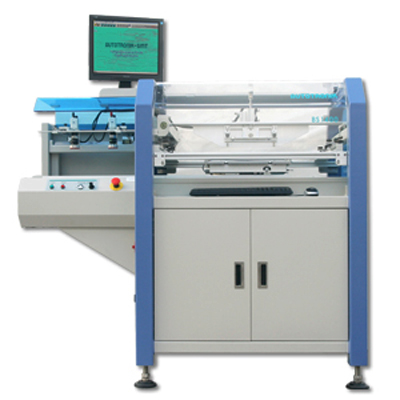 FEATURES
Precision Printing for 0.3mm fine pitch QFP
High Accuracy, Repeatable±0.01mm
Double Squeegee with dual stroke control
Monitored by semi automatic Overlay Pattem Vision Alignment(OPVA) software
Heavy duty and high precision bearing system to provide strong, rigid and long life time mechanism
Built-in OPVA Software and Windows XP Software
For Single & Double side PCB
SUMMARY
BS1300
The AUTOTRONIK economic model BS1300 is semi-automatic, which is built in with dual camera system, the ultra-fine pitch printing for 0.3mm QFP IC is easy to obtain when using with OPVA software..
Highly accurate & repeatable printing
BS1300 comes equipped with a flexible mounting table for quick setup & changeover of single and double-sided PCBs. Because all movements--PCB position, mounting table, and squeegee head--rely on precision linear guides, the greatest possible accuracy and repeatability is achieved.
High Accuracy
Monitored by semi automatic Overlay Pattem Vision Alignment(OPVA) software
PC-control shortens learning curve
BS1300 features a dual squeegee/dual stroke control system for the most efficient use of solder paste. All parameters--print speed, stroke length, squeegee pressure, etc.--are fully programmable. And because the BS1300 uses familiar Windows-based software, it's easy to learn and even easier to use.
Double Squeegee with dual stroke control
Provide efficient saving of solder paste during printing
Strong & Rigid Structure
Heavy duty and high precision bearing system to provide strong, rigid and long life time mechanism
Flexible Mounting Table
For Single & Double side PCB
SPECIFICATION
Printing Speed :
10 to 100mm/s (servo controlled)
Table Up / Down Speed :
0.5 to 5mm/s (servo controlled)
Vision Alignment System :
Semi Automatic (OPVA system)
Stencil Frame Size(External) :
450mm x 450mm to 736mm x 736mm
Printing Area :
Max: 400mm x 400mm
Optional max: 350mm x 350mm
Optional max: 400mm x 450mm
Optional max: 400mm x 500mm
Board Size :
Min: 20mm x 20mm
Max: 400mm x 400mm
Optional max: 350mm x 350mm
Optional max: 400mm x 450mm
Optional max: 400mm x 500mm
Cycle Time :
15 to 25 sec./PCB
Board Thickness :
0.2mm to 8mm
Underside Clearance :
Max: 26mm
Printing Stroke :
Max: 400mm
Squeegee Pressure :
0 to 15kg
Blade Type :

Standard length :

250mm

Optional:

200mm to 400mm
XY Adjustment :
± 5mm
Radial Adjustment :
± 2°
Registration Repeatability :
± 0.01mm
Support Tooling :
Magnetic pin & vacuum block
Camera :
2 sets of B/W CCD camera
Vision Alignment Resolution :
0.0085mm/step
Vision Fiducial :
Standard fiducial, any pads and IC foot pads
Control System :
Pentium PC, Windows XP perform
Air & Power requirements :
110V OR 240V AC power, 75psi (5.5 bar) air
Power Consumption :
500W
Dimensions :
51" x 35" x 51" (1300 x 900 x 1300mm)
Weight :
550lbs (400kg)
* We reserve the right to make changes without notice.
DETAILS
The BS1300 comes with two sets of B/W CCD cameras for dual vision. Onscreen process status shows all details of the current print job. A 400 x 400mm print area is standard, but larger mounting tables are available. Flexible tooling for fast setup of single- & double-sided PCBs.