BS281S Bench-Top Pick & Place Machine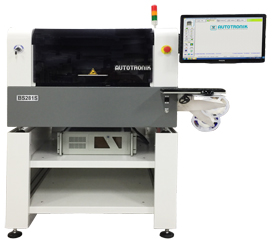 FEATURES
Flying Vision for components from 0.6 mm x 0.3 mm (0201) to 16 mm x 14 mm
Bottom Vision Camera for alignment of 01005, up to 0.5 fine pitch QFP & BGAs (option)
32 lane feeder bases mount at left and right of system for maximum capacity of 64 automatic 8 mm Tape Feeders
Optional feeders and accessories allow a wide variety of configurations for full and partial reels of Tape, strips of Cut Tape, Stick / Tube, and IC Tray Packaging
Programming via CAD Conversion, Direct Input, or Teaching/Fiducial Recognition Camera
PC controller, monitor, and keyboard included with Easy-to-Use, Windows® XP-based control software
ConversionOptional Dispensing system
SUMMARY
High-precision
AUTOTRONIK 281S model is especially designed for small volume batch sizes. This model features vision processing and head-mounted camera for non-contact "Vision on the Fly" alignment. It assures high-precision placement of a full range of SMDs, from the smallest 0201 devices through CSPs, μBGAs, flip-chips, ultra-fine pitch 0.5mm for QFPs, even odd-form components.
Flexibiltiy
Optional Bottom Vision Camera is used for large components up to 150 x 100 mm and devices with alignment features on their bottom side. With additional Bottom Vision Camera, the alignment of 01005 components is possible.
Wide variety of configuration
Optional Feeders and Accessories allow a wide variety of configurations for Full and Partial Reels of Tape, Strips of Cut Tape, Stick/Tube, and IC Tray Packaging.
SPECIFICATION
Number of Heads (Vision on the Fly):
1
Placement rate((under the optimum condition)):
3000 cph, 2500 cph (IPC 9850)
Feeder capacity (8 mm):
up to 64 Tape Feeders
IC Tray capacity:
up to 3 Waffle Trays
Component Sense:
Vision detection
Component Size:

Handled by head camera:

- Smallest: 0.6 x 0.3mm - Largest: 16 x 14 mm


Handled by fixed Bottom Vision Camera:

- Smallest: 0.4 x 0.2 mm (option) - Largest: 150 x 100 mm (option)
Resolution:
X / Y axis 0.005 mm Servo Motor
Z axis 0.01 mm Servo Motor
Rotation:
0 to 360° (0.09°/step)
Placement Accuracy:
+/- 0.05 mm
X-Y Repeatability:
+/- 0.01 mm
Placement Area:

without Waffle Tray:

- Max. 320 x 415 mm


with 1 Waffle Trays

- Max. 320 x 270 mm
Programming:
Direct input, Vision teach-in, CAD Access (Option)

Operation system

:
Windows 7
Power supply:
220V
Power:
700W
Pressure:
75 psi (5.5 bar), 100 L/min
Machine Size:
950 x 1050 x 1650mm (WxDxH)
950 x 1050 x 1000mm (WxDxH)(Without stand)
Weight:
165 kg (Without stand)
* We reserve the right to make changes without notice.
Video demo
950 x 1050 x 1650mm (WxDxH)